Cheers to another epic event, Sydney! With 300+ people in the room, #SCALE 2023 hit it out of the park, or in this case, the Allianz Stadium.
It was incredible to see so many industry leaders, innovators, and passionate professionals dedicated to transforming the retail industry connecting, collaborating, and learning from one another.

Feeling the FOMO? Check out the photo gallery to see if you spot any familiar faces and binge-watch all five sessions. Watch now.
The energy and enthusiasm were palpable throughout the day, leaving us with invaluable insights to highlight what that next frontier in retail looks like and help us take steps towards it.
Here are five key takeaways from the day that we're still thinking about:
Faster, Greener, Cheaper Last-Mile Logistics:
One of the most pressing challenges in the logistics industry today is reducing our environmental impact. At #SCALE, keynote speaker, Brett Thompson from Accenture, talked about how "e-commerce growth is projected to create a 32% increase in emissions- an additional 20% increase in local traffic, if we don't look to improve sustainability across the last mile."
Local fulfilment plays a significant role in making online delivery more sustainable by addressing some of the key challenges associated with traditional logistics models.
The session uncovered three ways in which local fulfilment and micro fulfilment can make online delivery more sustainable for retailers:
Incentivising greener choices by offering greener delivery options at the checkout

Rethinking asset use by repurposing stores into local fulfilment centres

Harnessing the power of data and analytics to optimise inventory and parcel routes
By adopting these local fulfilment strategies, the retail ecosystem can innovate last-mile delivery while reducing carbon emissions, cutting costs and improving the customer experience.
There's room for both Retention and Acquisition this year
Right now, retailers are torn between retention and acquisition strategies. But we know that creating a loyal customer base while attracting new ones is crucial for sustained growth.
To put both strategies to the test, we had two of Australia's biggest up-and-coming brands, Hero Packaging and Bangn Body go head to head to show us how acquisition and retention can boast impressive returns on ad spend (ROAS).
As Priscilla from Bangn Body said, "The more brand penetration and community building you can acquire the more loyalty you will naturally get."
The session highlighted a few key points on each side to show retailers how they can prioritise both.
Here's what we found:
Both brands rely heavily on email and SMS marketing to build and keep a loyal subscriber base. Hero Packaging and Bangn Body leverage first-party data to better understand individual customer preferences and implement targeted marketing campaigns.
Hero Packaging reports 12x ROAS on Facebook ads to acquire new customers into their email subscriber base

Bangn Body reports a 20x ROAS using SMS marketing to generate a pipeline of loyalists into the funnel.
By nurturing new and existing relationships with loyalty programs, referral bonuses and automated email nurturing flows, retailers can turn first-time shoppers into lifelong customers.
Go the extra mile to bake trust into your delivery experience
In the age of instant gratification, customer expectations have skyrocketed. Delivering exceptional experiences is no longer a differentiator but a necessity. During #SCALE, we sat down with industry experts from Koala, Sherpa, The Winnings Group and Australia Post to unpack how retailers can nail the delivery experience and prioritise giving customers a consistent, reliable delivery experience- and plan for disruption.
Believe me, this wasn't an easy one to summarise because there were A LOT of great insights. To break it down, there are four key things retailers to consider to meet and exceed customer delivery expectations:
Technology: Duncan Brett from Sherpa says,

"It is so important to give customers an update on their delivery. Being upfront and honest about the good, the bad, and the ugly of delivery can improve and grow the lifetime value of a customer. If you don't have the capabilities to do this yourself, work with industry partners who can help because delivery experience is a critical USP for customers. Think: live quoting,

tracking, and real-time ETAs

."

Communicate:

This goes hand in hand with transparency to customers on what is going on with their orders at each stage of the delivery process. Pick up, drop off, issues, lateness, ETAs, ability to contact delivery driver etc. Setting expectations is a critical success factor in managing the last-mile delivery experience," said Fiona Da Siva, former General Manager of Portfolio Strategy at Australia Post.

Process:

Chief Operations Officer at Koala, Vicki Slavnia said,

"

Listen to customers and end consumers' feedback to continuously improve your end-to-end process. Collect feedback immediately after delivery and look into your NPS score and how to improve it."

Redundancy:

General Manager at the Winnings Group, Mick Bunt highlights, "Plan for delays and disruption by preparing for extenuating circumstances (i.e. big online event sales). Consider how multi-carrier technology can help or add multiple delivery options like on-demand delivery at the checkout."
From real-time tracking to flexible delivery options and seamless communication, every touchpoint matters. By focusing on efficiency, transparency, and convenience, we can create a delivery experience that delights customers, builds lifetime value, and fosters brand loyalty.
The pain is worth the gain when it comes to returns:
When we posed the question to the audience, "How many retailers are focused on returns this year," we noticed a lot of hands went up. Returns are an inherent part of e-commerce, and managing them efficiently is crucial to business success.
We were lucky to have experts from BlackMilk, eBay, Retail Apparel Group, Afterpay and Hubbed join us on stage to dive deep into innovative return strategies to streamline processes and reduce costs.
The panel unanimously agreed that although returns can seem like a pain in an organisation's backside, once done right, it can be a retailer's competitive advantage.
"The key is to focus on creating a simple, frictionless customer experience to optimise the returns experience for the buyer," said Chief Operating Officer at BlackMilk, Jackie Kruger.
As Mark Teperson, former CPO & CSO of Afterpay put it, "Eliminating friction throughout the experience is a key driver to help turn a return into a conversion because, with a seamless returns process, you have the opportunity to capture as much of the money in the repurchase."
From hassle-free returns to automated return management systems, we discovered how providing a seamless returns experience can transform a negative situation into an opportunity to win back customers. By prioritising convenience and simple user experiences, we can turn returns into a competitive advantage and improve customer satisfaction.
The future of technology is fit for purpose
Have you ever wondered how you are going to compete in this market with multinationals and strong locals? The one thing each presentation had in common was the importance of a good tech stack.
But it's not a silver bullet. A good tech stack requires working with the right partners; otherwise, it can make or break business operations and growth. The right eCommerce tech stack can simplify your efforts and guarantee growth.
This panel featured voices from R.M Williams, Fluent Commerce, Airwallex, Shippit and Big Commerce who had a few key callouts for all the retailers in the room.
Here's some tech stack food for thought from the experts: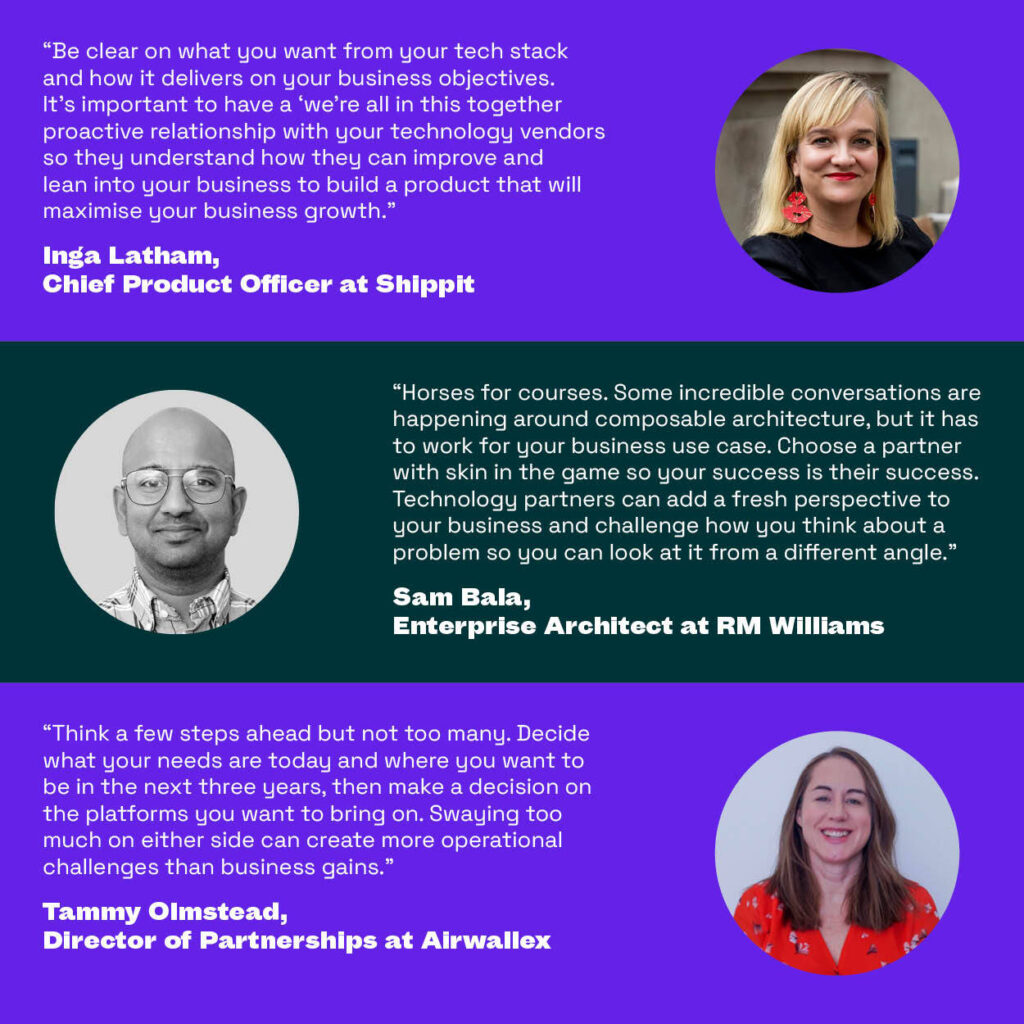 One final takeaway
This unforgettable day served as a catalyst for innovation and inspired us all to push the boundaries of creating better customer experiences through a more efficient and sustainable last mile.
If you're looking to hear more, get access to all five recorded sessions or get in touch with a member of the Shippit team.