If you run a brick-and-mortar business, engaging with your customers is easy.
Greet them when they walk up to your store, ask them what they need and how you can help, and even show them your latest products.
But how do you build lasting relationships with your online customers?
The lack of physical communication with eCommerce customers is a barrier to interactions, resulting in disconnection and not being up to the mark when building long-lasting relationships with buyers.
That's why we came up with a few tips to help you foster better relationships with your customers online.
Personalise the customer experience
Did you know 91% of consumers say they'd shop from your brand if you recognise and remember their preferences and then use them to make relevant offers and recommendations?
ECommerce personalisation allows you to send individualised discounts, product recommendations, content, and exclusive offers based on the customer's information, such as browsing history, purchase history, demographics, and shopping habits.
For example, Mon Purse, a leather bags and accessories brand, allows customers to design their own bag and choose the color, hardware, leather, and monogramming to personalise their bag.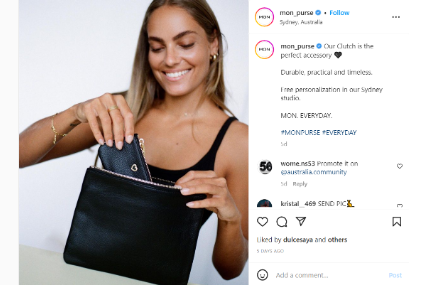 In a world where modern buyers want and expect you to provide them with a tailored experience, you can do this by;
Providing

1:1 personalisation

to deliver a uniquely personalised experience to every customer

Suggesting complementary products

Showing category-specific discount coupons

Sending personalised emails based on user behavior, such as a personalised newsletter with offers on the products that a customer previously browsed

Sorting recent products based on the buyer's interest level

Upselling or cross-selling at checkout or after purchase

Deploying personalised exit-intent pop-ups to customers before leaving the site

Using geo-location tagging to serve custom content and offers based on your store visitor's location
Offer excellent customer experience
Offer excellent customer support to your buyers from the first time they interact with your brand and throughout their buying process. Doing this not only helps you build better relationships with them but also results in happier, loyal customers.
Here're a few actions you can take to deliver an outstanding customer experience:
Provide value in the form of information, solutions to their pain points, etc.

Provide self-service options to give your customers freedom.

Respond to and resolve queries promptly

Ensure your customer support staff are knowledgeable about your business model and processes and are dedicated to offering quality customer service

Take customer feedback seriously, including online reviews, and see where you can improve your business

Ensure a consistently great experience across all your channels where customers interact with your brand
Exceptional customer service can also give you a competitive advantage, separating you from competitors and attracting more buyers.
Offer giveaways and reward your loyal customers
We all love freebies, which is why offering rewards and incentives is a great way to engage and form lasting relationships with your customers.
Offer rewards to your loyal customers—make coupons and discounts or hold contests and giveaways. Boost customer loyalty using a loyalty program and give repeat customers reward cards and points so they can gain from interacting with your business.
For example, in the Flybuys loyalty program, customers earn "Flybuys points" when they shop at partnered retailers like Target, Coles, and KMart. They can redeem points for fashion accessories, home supplies, flights, and hotels.
Rewarding loyalty gives your customers reasons to keep coming back. Through your interactions, you can foster mutually-beneficial, long-term relationships.
Make order fulfillment and shipping as seamless as possible
Your order fulfillment process impacts your customer's experience and, thus, your relationship with them. Delayed shipping, a hard-to-understand ordering process, and hidden charges during checkout are some of the customers' frustrations when shopping.
To build good customer relationships, you need to make the process of ordering, shipping, and fulfillment as easy as possible. Deliver on shipping speed demands, have a clear return policy and elevate your fulfillment experience to deliver unmatched service.
Let your customers know they can count on you to process and deliver their orders on time, every time. Meet their expectations and give them a reason to trust you and keep coming back.
Engage with your customers directly on social media
Social media is a powerful tool that enables you to build and nurture customer relationships. Use the opportunity to engage with your audience and connect with your potential and existing customers.
Hungry Jack's, a fast food brand, leverages the power of social media to address concerns, answer questions, and engage with its customers.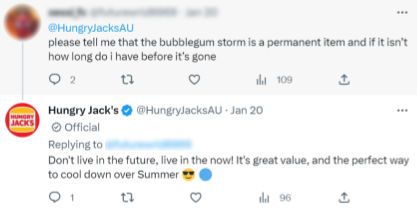 Brands can foster long-term relationships with their customers on social media if they;
Respond to questions promptly

Personalize the interaction by creating tailored, relatable content

Listen to customer feedback and put their suggestions into practice.

Deal with negative feedback

by responding fast, appreciating their feedback, discussing the issue privately, and asking how you can help and actually help. Be apologetic, and don't delete their comment if the complaint is genuine.

Are genuine and authentic with your customers. Resolve their issues and let them know if you're having problems like shipping challenges.

Are flexible and casual—post relatable memes, use witty language, inoffensive sarcasm, etc.

Host giveaways and contests on your social media channels.
Social media presents a rare chance for you to interact with your customers directly and know what your audience thinks about your brand. Seize the moment and nurture those relationships.
Start Building Lasting Customer Relationships
Customers feel valued when you take the time to understand their pain points and show genuine interest in helping them solve their issues. This feeling of attachment will keep them returning to buy more. As a result, you'll avoid acquisition costs, reduce customer churn, and improve loyalty.
Engaging with your eCommerce customers is key to building long-term relationships with them. This requires consistent effort long-term, but when done right, you can expect more growth and increased customer loyalty.